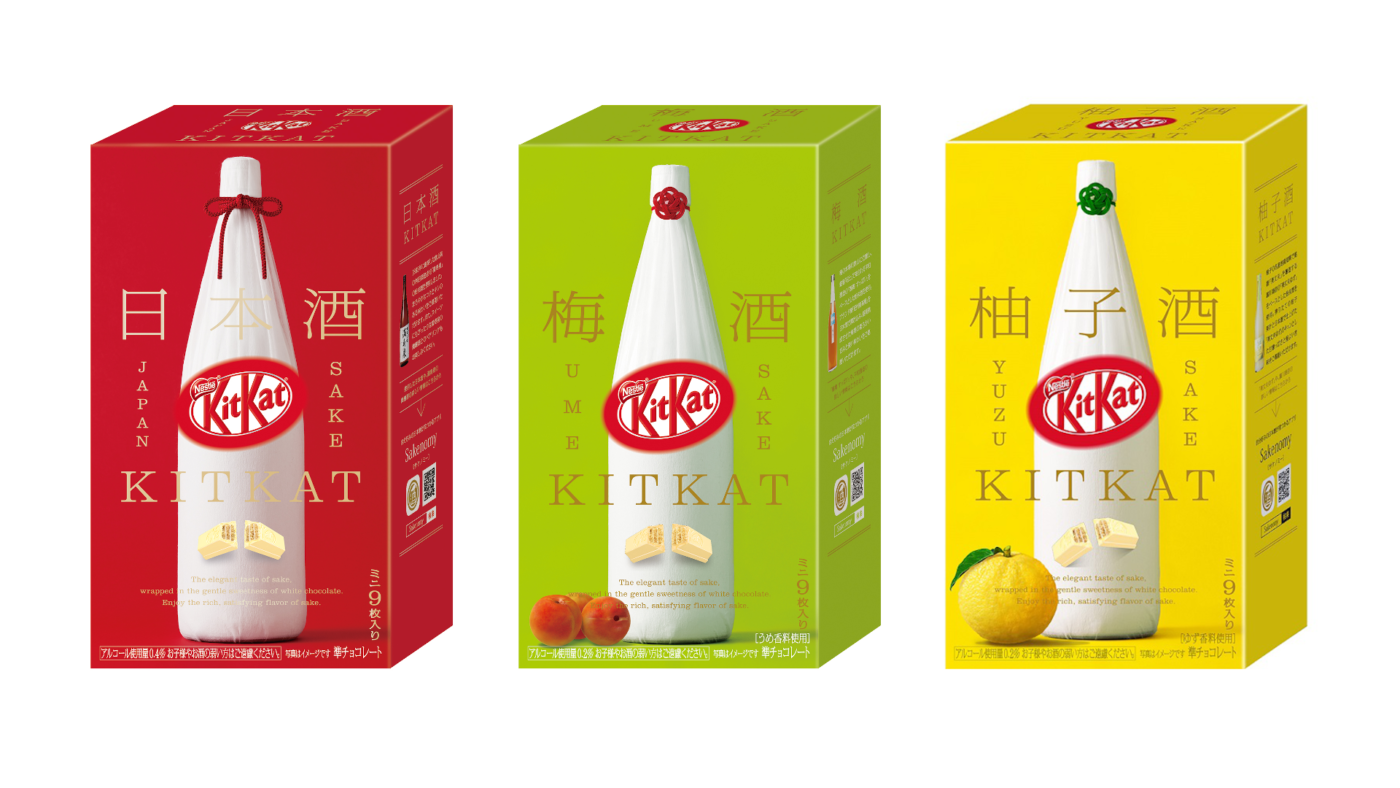 We partner with breweries to forge inter-industry collaborations that lead to the creation of innovative products. By developing relationships with industries previously considered irrelevant to the field of sake, we are opening up a brand new realm of possibilities.
---
JCSC x Nestlé Japan: KITKAT
This project involves developing products using sake, Umeshu (plum wine) and other traditional Japanese liqueurs, targeted at inbound tourists to Japan. JAPAN CRAFT SAKE COMPANY oversees every aspect from brand selection to packaging design. After developing numerous prototypes, we finally arrived at a unique form of Japanese KITKAT that is now a hit in Japan and has become a staple souvenir for travelers.
---
JCSC x ANA: ANA First Class Beverages and onboard documentary programme (Bihai Junrei)
We partnered with ANA to assist with the sake served in first class cabins on international routes. This encompassed everything from low temperature transportation and storage through airports to the design of original labels. For September-November 2018, we partnered with Aramasa Co., Ltd. to develop the No. 6 ANA-type, and for December 2018-February 2019, with Yamanashi Meijo Co., Ltd. to create a rebranded version of their luxury sake, the Shichiken Onakaya Junmai Daiginjo. In addition, we produced and developed the Bihai Junrei, an onboard programme showcasing these breweries.
---
JCSC × à tes souhaits!
Hideki Kawamura, owner-chef of the patisserie "à tes souhaits!" in Kichijoji, Tokyo, which is widely regarded as the best in Tokyo, created a new product called "Juyondai Yakigashi", a cookie made with Juyondai sake lees. The sake lees are left over from the production of Juyondai sake, carefully made at Takagi Sake Brewery in Yamagata Prefecture, which is considered one of the best sake breweries in Japan and attracts many people with its flavourful, fruity taste.
---
JCSC × Kyogashi Tsukasa Suetomi
"Kyo-fusen" is one of the classic products of Suetomi, a long-established traditional wagashi (Japanese confectionery) shop in Kyoto. A limited edition kyo-fusen called "Shu-Kou-Senbei" has been developed using sake lees from "Juyondai", produced by the Takagi Sake Brewery - which has been brewing sake since 1615, and has redefined the boundaries of traditional sake to become a leading brand in the modern era. The delicious rice flavour, sweetness and mellow aroma of the sake lees can be enjoyed together with the fragrance of the roasted kyo-fusen.
---